Professional Consulting Services
Honesty ~ Integrity ~ Loyalty ~ Respect
"Remember to look up at the stars and not down at your feet. Try to make sense of what you see and wonder about what makes the universe exist. Be curious. And however difficult life may seem, there is always something you can do and succeed at. It matters that you don't just give up." -- Stephen Hawking
Experience Counts!
Live Free ~ THINK FREE
Central Florida USA
Who We Are
My name is Skip Stein and I founded HJS Enterprises in 1994 as an Information Technology Consulting Enterprise based on over 20 years in various lines of business as an IT Professional. In 1998 I incorporated as Management Systems Consulting, Inc. a sub-S USA Corporation. My work history is lengthy and I married a wondrous lady (Chef Nancy) over 36 years ago. Together, we have put our background, experience and energies into many different enterprises.
We are both Polymaths and have a very Wide Variety of interests. As a result, our HJS Enterprises Group now consists of endeavors ranging from Internet/Web Services, Business Consulting, Health-Wellness-Longevity Consulting, Corporate Health and many more. We have over 30 different web sites covering these wide ranging topics; please explore them and enjoy.
Our Polymath Group Sites
Background
For several decades I traveled the USA, Europe and into China applying my Information Technology skills in the fields of International Monetary Exchange, Materials Order Processing and Fulfilment and Payment Processing.
As an experienced systems professional, functional and information data integration architect, I have gained valuable skills and knowledge by working in a wide range of industries and applying a varied set of technology solutions to complete project tasks and resolve client problems. My employment and consulting history includes such businesses as Manufacturing/Distribution, Pharmaceuticals, Oil & Gas, Petrochemical, Telecommunications, Public Accounting, Banking and Finance, Resort and Hotel Management, and Retail Sales and Distribution. Within these organizations, I have performed in positions as Programmer Analyst, Project Manager, Operations Director, Director of Development, Chief Information Officer, IT Audit Manager and Chief Operating Officer.
Many companies are now forced to migrate very old COBOL based systems to newer language and technology infrastructure. With many years of IBM Mainframe/MidRange (Management, Operations/JCL, Systems Programming) and COBOL design and coding expertise, I can offer assistance with documenting functionality of older COBOL systems to aid in the trans-migration to new languages and platforms. As a Senior COBOL Business Productivity Technologist these skills are in short supply today and getting less and less available as professionals with this expertise are retiring or no longer available. Sometimes an Old Geek can help!
Private/Secure Email is Critical Today
With Government Lawsuits breaking up Big Tech and the Censorship going on, how long do you think your 'free' email accounts will survive?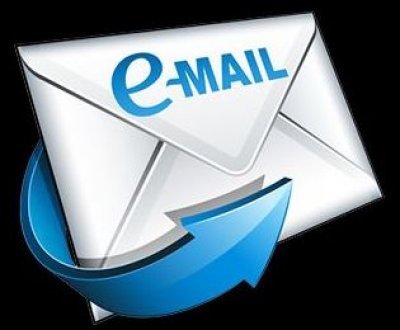 Your Privacy and Identity is in jeopardy. When you use a 'public' email service (like gmail, yahoo, aol, etc.) you are surrendering ALL your access and privacy rights! Did you know that? With a private email server/address YOU control that content. YOU can have almost unlimited named addresses @YourDomain for a low and simple fee. Simple and low cost and IT IS YOURS!
Freelance Writing & Publishing
I offer my skills as a Freelance Writer in multiple subject matter areas, including Technology, Health, Wellness, Longevity and technical issues, including home automation system. I also write political information articles relating to many areas of Health, Business, Commerce and Globalism.
With our publishing division, I have written and edited several books and advertising copy including subject matter of Travel, Health, Wellness, Longevity and Organic Farming.
My online services span Web Design, Account Management, Domain Registration and Optimization and Remote Computing.
I offer Resume Development, professional advice and career counseling and Free Agency or starting your own business.
Corporate Health
Our Corporate Healthcare line of business is handled by our Whole Foods 4 Healthy Living division. Beginning in 2010, we expanded into the Health & Wellness business. Having had a long time relationship with products in this area for our own use, we decided to expand our professional consulting skills into this challenging arena.
In your personal life, you no doubt know someone with cancer, heart disease, diabetes or other lifestyle disease. Traditional medicine is and has been a TOTAL and abject failure treating these diseases for decades. Americans, and indeed the Planet, is suffering Unnecessarily from these debilitating, dreadful and costly diseases when, for the most part, they are Preventable and Treatable with a focus on lifestyle and dietary changes. Our Physician Nutrition Site provides more information on this subject.
This is our focus: consulting services prevent and reverse these and other lifestyle diseases. While we have added selected products to our mix, we now focus on health, wellness and longevity advisory services.
Most Recently, we have added Travel Advisory services as an approach to Living Life to the Fullest; expecially after retirement. Our Senior Life Site provides a more focused approach to this topic.
---
Skip Stein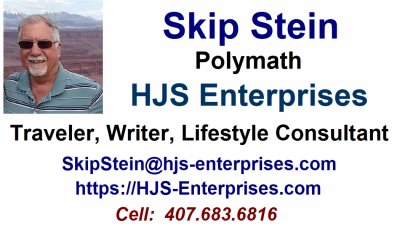 Cell: 407.683.6816
---
Read Our Latest Books
From Whole Foods 4 Healthy Living Publishing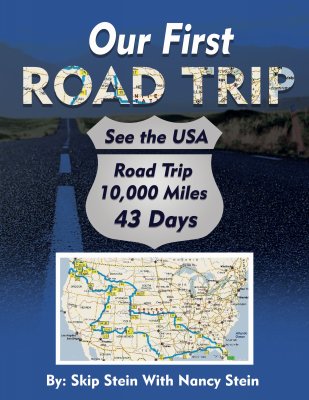 Our Flagship company is our Whole Foods 4 Healthy Living,
please visit us here!